Mosquito
---
Order: Diptera (2 winged insects)
Life Cycle: complete
Four Stage Metamorphosis: egg, larva, pupa, and adult
Mosquitoes sit with their hind legs in the air. (Midges sit with their forelegs raised up in the air.)
Larva

Body Description
Larva is similar to the midge larva except they have 10 segments instead of 9.
Pupa

Body Description
Mosquito pupa is similar to the midge except they have a respiratory tube and have a 2-3 day life span at the surface film.
Adult
Body Description
Adult mosquitoes are like the midge except the female has a needle to bite. Their body colors are: black white, and tan white.
| | |
| --- | --- |
| | Female |
| | Male |
---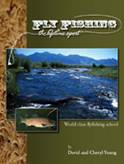 Fly Fishing - The Lifetime Sport
Copyright 2017 The Gale Group, Inc. All rights reserved.
Copyright 2017 Perigee Learning LLC. All rights reserved.
lovetheoutdoors.com is owned and operated by Advameg, Inc. Copyright 2017 Advameg, Inc.